Difficult time in Marisa Burke's life about to become an open book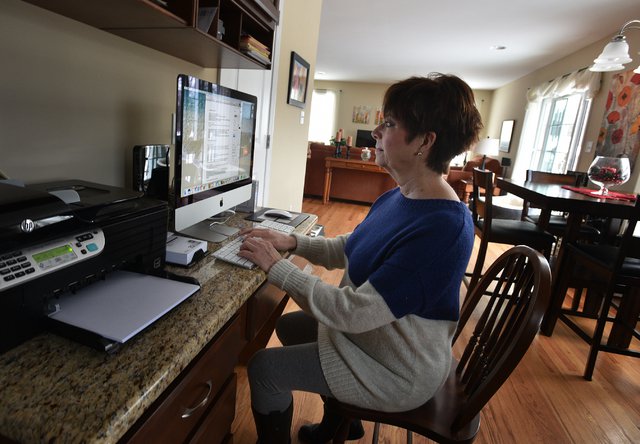 MOUNTAIN TOP — The primary goal of any journalist is always to be accurate. That's why Marisa Burke's book will be, as she says, her words and nobody else's.
The book — titled "Just Checking Scores" — is not a puff piece by any stretch. It is primarily about a time in Burke's life that cast even a brighter — and not so flattering — spotlight on, perhaps, the most recognizable media person in the region. As far as the book's title, Burke said people will understand its meaning once they read the book.
At the end of 2016, Burke, former news anchor at WNEP-TV Channel 16, accepted a buyout from the station she called home for nearly 33 years.
She decided to write the book in 2012 and 2013 when her ex-husband had gotten in trouble with the law for a second time.
In October 2013, Burke's husband at the time, Mark Kandel, 53, of Peckville, was sentenced by U.S. District Court Judge A. Richard Caputo to 14.6 years in prison on charges of using a cellphone to solicit sex from a boy. Federal prosecutors said Kandel had exchanged more than 900 text messages with a then-17-year-old boy seeking to have the boy send nude and explicit pictures in exchange for money and gifts.
Burke said she is writing the book — she hopes to have it finished and self-published by late spring/early summer — "to share a story of how I and my two daughters became victims of deceit, scandal and betrayal."
Burke said her personal trauma became public because of her very public job in television news.
"I will discuss and explain how I became one of the most respected news personalities in Northeastern and Central Pennsylvania and what happened professionally and personally when my husband was charged with a serious crime, not once but twice," Burke said in an email about the book.
During a lengthy interview with the Times Leader, Burke said the book will include details of what led to the trouble, how WNEP reacted and what she and her daughters needed to do "to overcome the horrible ordeal so we could move on with our lives."
Burke said writing the book has served several purposes. She said getting it all out and putting it down on paper has been therapeutic. She said the book "will shock anyone who thinks they have married the person of the dreams."
Far from being retired at age 56, Burke has been keeping busy doing promotional work for regional businesses and nonprofits, but most of her time is dedicated to writing the book.
She said a lot of people, close friends and associates, persuaded her to write the book. She said she even sat down with the federal prosecutor of her ex-husband's case who told her she needed to write it.
"I hope the book will be empowering mainly to other women who may find themselves in the same or similar situation I was in, of deceit, betrayal and lying, where one spouse is leading a double life," Burke said.
Looking back, Burke said she found herself in a bizarre situation.
"And I still had to carry on and do the news while it was going on — while it was happening day by day," she said. "Like I said, it's a bizarre story and like no other."
Burke now lives in Mountain Top. Her two daughters are "doing fantastic," she said. Rachael, 21, is a junior in college; Sarah, 19, is about to graduate from a theater conservatory in New York City.
"I am really blessed to have them," Burke said of her daughters. "After four or five years of trauma, they really are doing fantastic."
Burke said since Kandel's sentencing, there has been no communication with the children.
According to a Times Leader story, Kandel previously worked as a curriculum specialist with the Northeast Education Intermediate Unit 19 in Archbald, and had served on the Scranton School Board in the 1990s.
Burke said she will always be grateful to WNEP for the way the company reacted when the news of her husband hit. She said there was one time in 2008, after her husband had been charged with furnishing alcohol to minors, that Burke thought the station might let her go.
"But they didn't," she said. "They understood, they sympathized, they knew I was not involved in any of it. They could have gone a different route, but they didn't, and I will be forever grateful for that because it truly was the darkest time of my life."
Burke said she has nothing bad to say about Channel 16.
"Channel 16 is like family and will always be family to me," Burke said.
Burke said the buyout offered her by the station may have been a blessing in disguise.
"First of all, I now have time to write the book," she said with a chuckle. "But I am definitely not retired."
Burke said she wasn't at all surprised when she was called down to the conference room for a meeting with the general manager and news director.
"They had a folder," Burke said. "They asked me if I had any idea what this meeting may be about. I told them I thought they were going to offer me a buyout."
Burke said it wasn't an ultimatum — she said they told her she didn't have to accept the buyout.
Burke said she has never looked back. She said she was given a full year's salary plus benefits.
"I had a good run at Channel 16," she said. "I have no bad feelings. I left on good terms, and they even gave us — nine were offered buyouts, six accepted — a beautiful luncheon."
And now she is putting the finishing touches on her book, which she admits at times has been difficult to write.
"It will be closure for me on this very dark part of my life," she said. "Writing the book has been good for me, and I am going to tell the truth."
Burke said she will detail how it all played out and how she faced the situation and how, through it all, she still had to keep a good face for the sake of her profession, for WNEP, and for her girls.
"Being a mother of two girls still in grade school and dealing with this and constantly trying to neutralize the embarrassment, the humiliation that the three of us faced was always there," she said.
Burke said her mother, now 87, lives in the Danville area home where she was raised. Burke has two brothers, one in Michigan and the other in Colorado. Family, which includes her two dogs, means everything to Burke.
And Burke now looks forward to achieving the closure she said she will receive when her life becomes an open book.
Reach Bill O'Boyle at 570-991-6118 or on Twitter @TLBillOBoyle.